Warren, Veitch and Flynn Sportscraft Stars in Week #4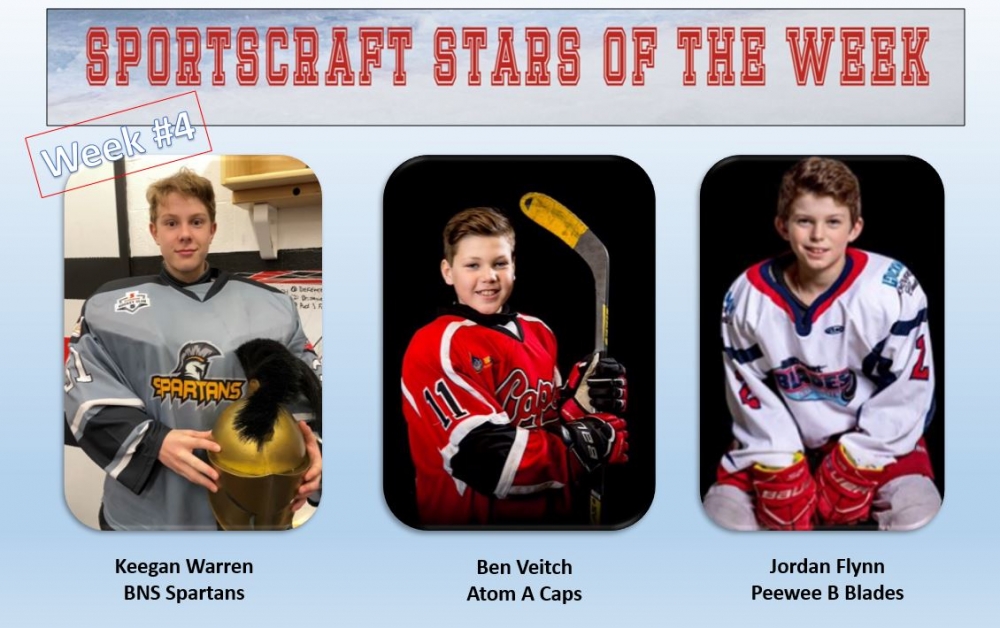 Week 4 of the Scotiabank DJHL play-offs was highlighted by the Paradise Warriors claiming the Atom A crown in four games over the CBR Renegades and the St. John's Caps winning Atom A bronze in straight games over the Mt. Pearl Blades. Elsewhere, there was a sweep in one Bantam AA semi-final and likewise in one Bantam A semi-final. As always, certain players gave that little extra to earn special recognition from their coaches.
Here are the Sportscraft Stars of Week #4:
First Star goes to Keegan Warren, goaltender with the BNS Spartans. Keegan had two shutout wins in the three game series sweep by the Spartans over the Privateers during the semifinals of the Bantam AA Division, including one in Week #4. That's an impressive 1.000 save percentage and 0.00 GAA in the semis!
Second Star is awarded to Ben Veitch, forward with the Caps Atom A squad. Ben has an 8 point campaign against the Celtics prior to Week #4 and followed it up this past week with goals in both play-off wins against the Blades as his team claimed the bronze medal in their division.
Third Star goes to Jordan Flynn, forward with Mt. Pearl Blades Peewee B Blades. Jordan's team was in tough this past week against the second-place Goulds Pacers, but the two player led the charge for the Blue and White. The speedy Flynn figured in on 3 of 4 Blades goals, notching a pair of goals and an assist, on the way to a 2 game total goal victory and a spot in the Bronze Medal Series.
Honorable Mention goes to James Lynch and Henry Winsor of the Paradise Warriors Atom B team lead the way in game 1 of the Atom B Championship Series versus the Caps. James contributed two goals and an assist, while Henry also scored in regulation and delivered a shootout dandy in the shootout and a Warriors win game 1. Despite a game 2 loss, both James and Henry demonstrated their strong forechecking play and set up Jack Carter to tie the game before the Caps responded with a late game-winner.
Winners can pick up their Sportscraft gift certificates at the store on Ropewalk Lane. Congrats!
Sportscraft Stars of the Week nominations have to be emailed by either the Team Manager or one of the coaching staff to djhl.news@gmail.com. Nominations are limited to one hundred words and should include player's game stats, photo, along with how they contributed to their team's play. Deadline for submission each play-off week is now Saturday night at 10pm. This promotion is open to all 65 teams within the DJHL.
[2020-04-01 18:24:21]