Sportscraft Stars of Week #5 Announced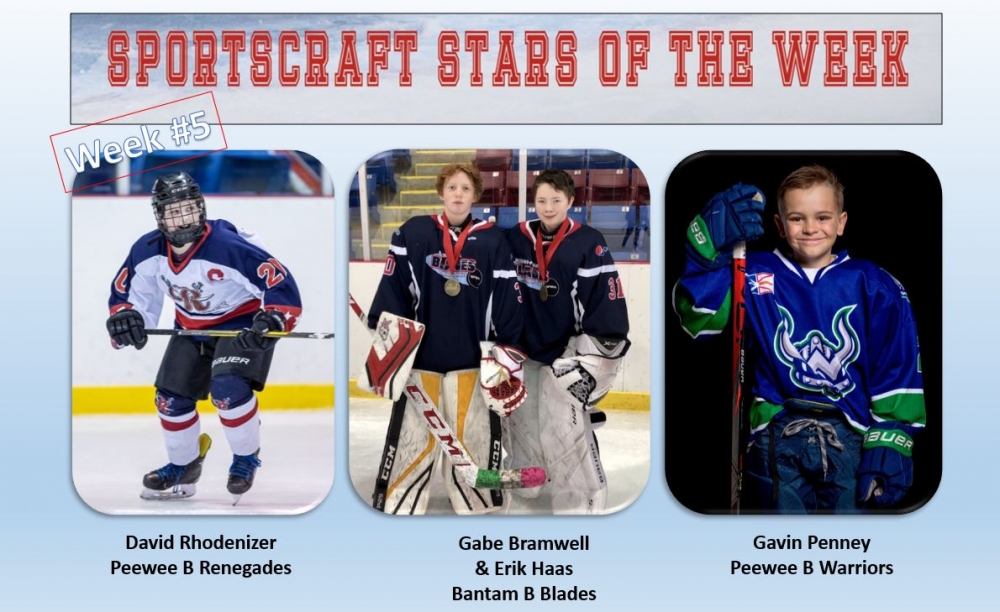 Week 5 of the Scotiabank DJHL play-offs will be remembered by all as the week the League stopped play over concerns with the COVID-19 virus spread. For the record, here are the Sportscraft Stars of Week #5:
First Star goes to David Rhodenizer, Captain of the Peewee B Renegades. Rhodenizer's Renegades claimed bronze in Week 5 and the forward played a big part in his team's offensive output. In the first game of the best of three series against the Blades, he scored twice and then added the shoot-out winning goal. Rhodenizer then topped things off in the game two victory by notching a hat trick.
Second Star is awarded to one tandem: the goaltending pair of Gabe Bramwell and Erik Haas from the Bantam B Blades. The Blades took the league title this week in 3 straight games against a very strong Goulds Pacers team. There were many close games that could have gone either way, but Bramwell and Haas ensured they were on the winning side most of the time. The pair were deemed so key to the Blades gold medal performance in Week 5 that their coaches insisted we considered them as one or not at all. The Goalie Union would surely approve.
Third Star goes to Gavin Penney of the gold-medal winning Peewee B Warriors. Gavin popped a pair of goals in game 3 to help his Paradise squad win 3-1 and sweep the best of five series in straight games against the Caps.
Good luck everyone. Be safe and keep washing those hands!
Winners can pick up their Sportscraft gift certificates at the store on Ropewalk Lane. Congrats!
[2020-04-01 18:24:37]